Monday, 08 June 2020
Green hope and beauty: the emerald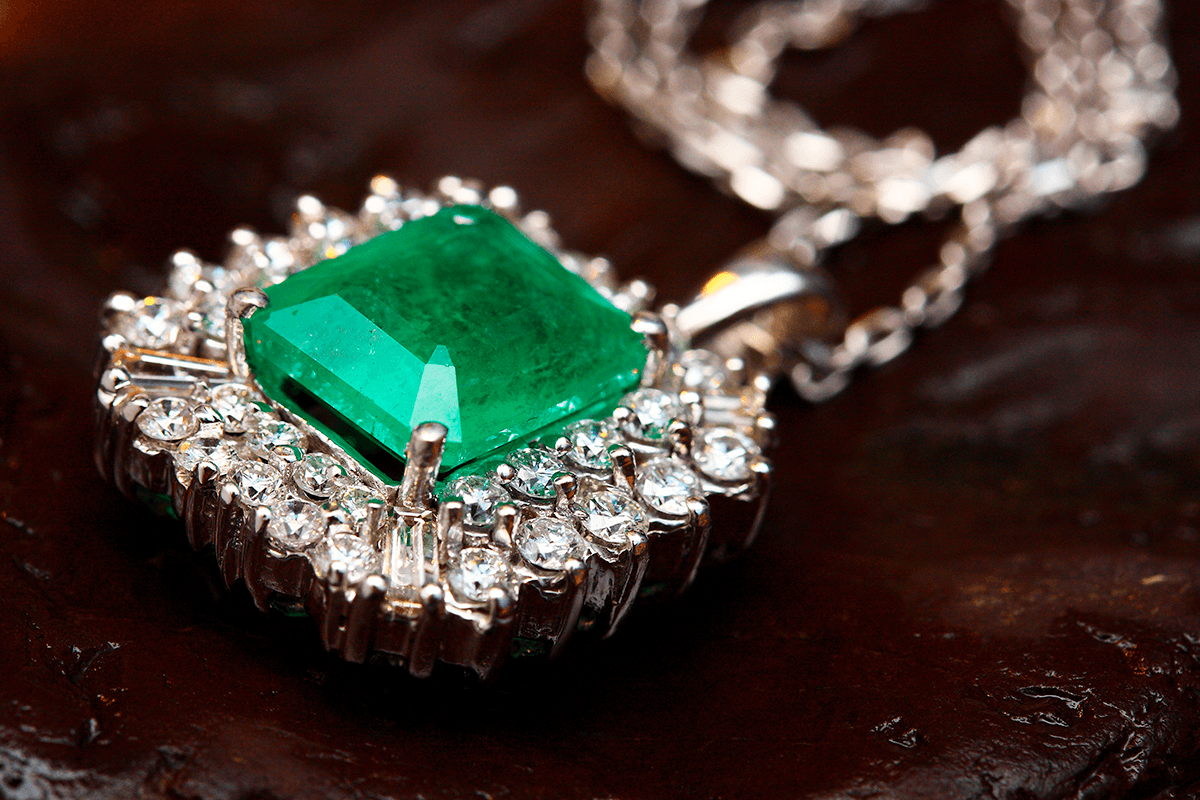 Elegant, refined, beautiful and sparkling: for centuries, the emerald has been adorning tiaras and parures, donating incomparable light as well as an air of spirituality and kindness to the fortunate people who wear them in necklaces and rings.
Emerald is a variety of beryllium whose intense green comes from a particular presence of chromium. It varies in colour gradation from bluish-green to yellow-green with deep green being the most prestigious. An emerald is more valuable if any inclusions only occupy an insignificant part of the stone and processes to improve its aspect date back to extremely ancient times (one involves heating the stone to improve colour intensity and purity).
Synthetic emeralds? The first attempts to re-produce emerald were documented in 1848 with experiments by J. Ebelmen, manager of the French porcelain factory in Sévres, famous for its blue and green porcelain. Emerald has a wealth of meanings. Starting with Ancient Egypt: legend has it that the "Cleopatra Mines" were made of gold dotted with emeralds and were supervised by guardians with huge talons. Only those who communicated with the spirits and souls of the dead had the privilege of trying to extract them from
their place of origin.
The emerald is thought to ward off evil, it is a symbol of divine revelation, an emblem of chastity, wealth, spirituality and kindness, not to mention beauty, honour, goodness and loyalty and it can be given as an engagement ring. In fact, tradition says that, if the bride-to-be is unfaithful to her future husband, the gem will crumble into a thousand pieces. Among VIPs, the four-carat emerald on satin gold with brilliant-cut diamonds, chosen by Olivier Martinez for his Halle Berry, is particularly splendid.
Leo Criaco, Jewellery specialist at Christie's affirms: "Nowadays emeralds from Zambia, which have not yet reached the prices, and rarely also the quality, of their Colombian cousins, are gaining a foothold on the market. The same goes for Brazilian emeralds. Afghan emeralds, which are extremely rare, are another thing entirely: the "Afghan Emerald" sold at auction at Christie's in 2015, fetched about $200,000 a carat at the time." Emerald also boasts its own cut, known as the emerald cut, which was purposefully created with chiselled step cuts to safeguard it from knocks since the gem is particularly sensitive. Another of the much-loved cuts for emeralds is the cabochon which is common for more opaque stones.
The history of this stone includes the magnificent tiara made for Princess consort Katharina Henckel von Donnersmarck, whose diadem consists of a total 101.27 carats of Shizuka diamonds and is worth 12.76 million dollars. Then there is the Cartier bracelet that King Edward gave to Wallis Simpson with black and white diamonds, emeralds, rubies and sapphires.
More recently, Angelina Jolie wore a pair of emerald drop earrings worth 2.5 million dollars designed by Lorraine Schwartz: 115 carats of beauty whose colour recalled the eyes of the beautiful actress.